I think that it is about time for another Seven Things Making Me Smile
installment
.
1. It is summer here in New England (not that weird excuse for spring that was masquerading as summer.) My all-time favorite, quintessential summer smell: boxwood hedges that have been warmed by the sun. Even better, freshly trimmed warm boxwoods. Delicious. That is a smell that has stopped me in my tracks and reminds me of childhood summer vacations spent at Colonial Williamsburg.
2. On Monday mornings, it is so fun to see all the other red envelopes in the work mailbox going back to Netflix and wondering what those people watched. (Most recently, I watched
War Horse
. I had a hard time getting past the part with Cumberbatch and Hiddleston; the dvd kept replaying that bit over and over and over again! I wonder why that happened... ;-) But seriously, really great film. Almost wish I had seen it in the theater, but I think that the breaks I took in watching the film prevented me from becoming a blubbering mess by the end.)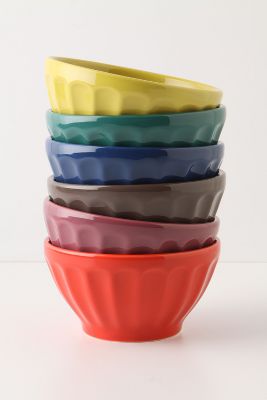 3. Since my move, the majority of my stuff is in storage. (As Sister K said, "Take only what you need to survive." Little did she know...) I seriously miss my stuff, but as I am crashing with family "FOR FREE" until I find a permanent home, I am trying not to bring up missing my stuff too often. But I was seriously missing my
latte bowls from Anthropologie
. I have about 10 of them in different colors (lots of shades of pink and blue) that I used all the time. Soup, cereal, ice cream, popcorn, pasta: you name it, it was likely that I was eating it in one of these bowls, which are both microwave AND dishwasher friendly. (Seriously, what's not to love? And at $5 per bowl, pretty reasonable.) I found out the other day that the West Farms Mall now has an Anthropologie. I walked right in there and bought two, so now I have an even dozen. Their cheerful colors are a great way to start the day with your coffee and Cheerios.
4. Living with my parents (temporarily!! ever so temporarily!!) means that I have access to my mom's extensive library of mystery novels. A newer series that she recommended are the
Three Pines mysteries
by Louise Penny, and she was right: I totally love these books! The stories are set in Quebec, in a small community on the Canadian/American border. The community, Three Pines, also straddles the line between the Anglo and Franco cultural lifestyles that people live in Quebec, and I find that "hook" fascinating. Some characters are distinctly French, while others are very English, and there is even a token American in the group! The writing style of the mysteries is not your standard fare. There are lots of little things that are alluded to (and not expanded upon) that you learn more about as you read the series, and the big exposé of the murderer breaks from your traditional mystery novel reveal. (It frustrates my friend MEM, but she still likes the stories enough to continue listening to them on audiobook!) I am currently 100 pages into the third book and I have five more left to go before I am all caught up. (Well, that will take me to the end of July; then I will have to find another set of mysteries to read!)
5. It is finally cherry season! I love eating ripe cherries this time of year, but I seriously hate dealing with the pits inside the cherries. I end up with juice all over myself (fingers, face, and clothes. Boo!) Recently, I found out that
Oxo
makes a cherry pitter (it also pits olives, but I don't care for olives), and I bought one on Amazon for around $10. When it first arrived, no one could figure out what it was, but when I told them, I got teased BIG TIME about buying a cherry pitter. ("A fool and his money are soon parted" and all that...) I ignored it and looked forward to making the naysayers eat their words. Flash forward to last night, when I made dinner with a fruit salad for dessert with fresh cherries in it. It was a big hit! The tart cherries really add something, and I think that we will be seeing more fresh cherry recipes on my night to cook in the future. (I saved a recipe for cherry pie from the paper. Don't know if I am ready for that level of baking just yet, but I may surprise them!)
6. I have found the best summer sweater ever, and it is the
LL Bean fine-gauge, button-front cardigan
! The summer can be tricky on the professional wardrobe front: you want to wear something that you can still keep cool outdoors, but you don't want to freeze in an air conditioned office. (Mine was downright frigid this week, while outside temps reached 101°F. Nightmare!) I picked up a couple of these soft cotton sweaters at the start of the summer, and they have been terrific! They can both dress up or dress down an outfit; it's totally appropriate to throw one over a tee shirt or a sundress and look great. The cotton is super soft, but holds its shape well. The only downside is that you can wash them in the washing machine, but you have to block dry them. (I accidentally put my black one in the dryer and the sleeves shrank slightly, which is actually okay with me because I like bracelet-length sleeves.) But my two dark sweaters have both been washed several times, and they seem to be keeping their color rather well (knock on wood.) They are on sale right now, so you should get yours while the summer colors are still available.
7. I can't think of a better way to beat the heat than one of
Edy's/Dreyer's Fruit Bars
. They come in all kinds of tasty flavors, from your traditional strawberry, orange, and lime to more exotic ones like coconut, mango, and acai blueberry. My personal favorite at the moment is the pomegranate, which is a nice balance of tart and sweet. These popsicles are made with real fruit, and the small ones only have 50 calories. A totally guilt-free treat on a 100°F day!
So these are some of the things that are brightening my days of late. I am sure there will be more to add as the year progresses!
Please note: these are all my own opinions; I have not been compensated in any way for recommending any products, etc. etc.